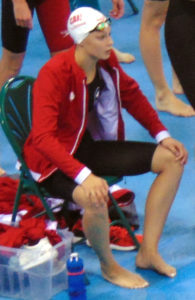 Team Canada won a national record 11th medal on Sunday at the 2019 World Aquatics Championships in Gwangju, South Korea when they won the bronze medal in the women's 4×100 metre medley relay. The previous Canadian record was 10 medals won at the 2005 World Aquatics Championships in Montreal.
The Canadian team in the final was comprised of Canadian Olympic gold medalist Penny Oleksiak of Toronto, Ontario, Kylie Masse of LaSalle, Ontario, Sydney Pickrem of Halifax, Nova Scotia and Maggie MacNeil of London, Ontario. Kierra Smith of Vancouver, British Columbia, Rebecca Smith of Red Deer, Alberta and Canadian Olympic bronze medalist Taylor Ruck of Kelowna, British Columbia were used in the heat and still won a medal.
Canada posted a third place time of 3:53.58. They were 2.92 seconds faster than Italy, who finished in fourth place with a time of 3:56.50. The United States won the gold medal in a world record time of 3:50.40. Australia won the silver medal with a time of 3:53.42. The United States also had the previous world record of 3:51.55, which was set at the 2017 World Aquatics Championships in Budapest. The medals for Oleksiak, Masse, Pickrem, MacNeil, Smith, Smith and Ruck will give them confidence as they prepare for the 2020 Olympic Games in Tokyo.