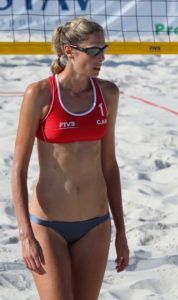 Team Canada is in the gold medal game of the 2019 Women's World Beach Volleyball Championships in Hamburg, Germany.On Friday, Sarah Pavan of Kitchener, Ontario and Melissa Humana-Paredes of Toronto, Ontario beat Marta Menegatti and Viktoria Orsi Toth of Italy 21-12, 21-12 in the quarterfinals and then Nina Betschart and Tanja Huberli of Switzerland 23-21, 17-21, 19-17 in the semifinals.
Pavan and Humana-Paredes will face Alix Klineman and April Ross of the United States in the gold medal game on Saturday. Ross and Klineman beat Taliqua Clancy and Mariafe Artacho of Australia 21-15, 21-18 in the other semifinal.
Pavan and Humana-Paredes have won all seven of their matches at the Women's World Beach Volleyball Championships to date. Klineman and Ross have one loss as they were beaten 21-15, 21-23, 15-10 to Karla Borger and Julia Sude of Germany in Pool E play.
This is the first time ever that Canada has won a medal at the Beach Volleyball World Championships. Canada's finest beach volleyball moment until now came at the 1996 Olympic Games in Atlanta when John Child and Mark Heese of Toronto, Ontario won the Olympic bronze medal. In the third place game, Child and Heese beat Joao Brenha and Miguel Maia of Portugal 12-5, 12-8. Interestingly, Humana-Paredes' father Hernan Humana coached Child and Heese.