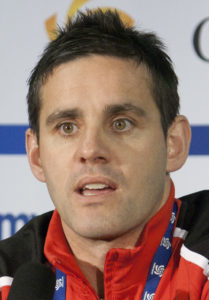 Team Canada has changed their coaches for their national soccer teams. In a surprise announcement on Monday, John Herdman has been announced as the head coach of the men's team and Kenneth Heiner-Moller has been named the head coach of the women's team.
Herdman was the head coach of the Canadian women's soccer team since 2011. He guided Team Canada to its first two medals in Olympic soccer history. The first was a bronze medal at the 2012 Olympic Games in London, and then repeated the feat at the 2016 Olympic Games in Rio de Janeiro. In London, Team Canada beat France 1-0 on a dramatic game winning goal by Diana Matheson of Mississauga, Ontario in the 92nd minute of the bronze medal game.  In Rio de Janeiro, Team Canada beat the host Brazilians 2-1 in the bronze medal game on goals by Deanne Rose of New Tecumseth, Ontario and the legendary Christine Sinclair of Burnaby, British Columbia.
It will now be interesting to see how strong of a coach Herdman actually is, or if he benefited from the sensationalism of Sinclair, who is one of the greatest women's soccer players of all-time? The answer is a difficult one as Herdman takes over a Canadian men's team that is ranked 94th in the world. It could actually be worse because Canada has been ranked outside the top 100 in men's soccer often over the last two decades.
Herdman takes over from Octavio Zambrano of Ecuador who was the head coach of the Canadian men's team since March. Heiner-Moller meanwhile was the assistant coach under Herdman for the Canadian women in Rio de Janeiro. The Canadian women's soccer team are currently ranked fifth in the world behind the United States, Germany, England and Australia.