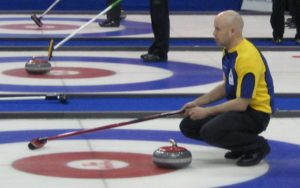 Team Canada has advanced to one of the two qualification games of the 2019 World Men's Curling Championships in Lethbridge, Alberta. The Canadian squad, skipped by Kevin Koe of Calgary, Alberta, finished the round robin with a record of eight wins and three losses. That was good enough to finish in third overall, but not good enough to get an automatic berth to the semifinals.
On Friday, Canada trounced Switzerland's Peter De Cruz 10-3 in a rematch of the bronze medal game in men's curling from the 2018 Olympic Winter Games in Pyeongchang, which Switzerland won 7-5. It was the first time in the history of men's curling at the Olympic Winter Games that Canada did not earn a medal.  Then in the evening on Friday from Lethbridge, Canada beat the Netherlands 6-5 in a narrow contest to clinch Canada's third place spot.
Switzerland was one of two Olympic medal winning teams from the 2018 Olympic Winter Games in Pyeongchang that Koe beat this week. On Thursday, Koe beat the American Olympic gold medalist John Shuster 6-3. Like De Cruz, Shuster beat Koe at the 2018 Olympic Winter Games. He initially beat Koe 9-7 in the round robin and then 5-3 in the semifinals.
After round robin play, Sweden finished in first place with a record of 11 wins and one loss. Their only loss came to Scotland, which also beat Canada in the round robin. Scotland will be Canada's opponent in the qualification game on Saturday. Japan will play the United States in the other qualification game. If Canada beats Scotland, they will play Switzerland in the semifinal later on Saturday.