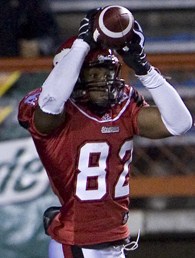 Nik Lewis, one of the best wide receivers in Canadian Football League history, retired at the age of 36 on Saturday. A slotback, who attended Southern Arkansas University, Lewis played 14 seasons in the CFL. He spent 11 seasons with the Calgary Stampeders from 2004 to 2014 and three seasons with the Montreal Alouettes from 2015 to 2017.
Lewis holds the Canadian Football League record for most pass receptions. He had 1051, 22 more than Geroy Simon, who had 1029 receptions with the Winnipeg Blue Bombers, British Columbia Lions and Saskatchewan Roughriders from 1999 to 2013.
A CFL all-star for three straight seasons from 2010-2012, Lewis had an immediate impact with the Stampeders. In 2004, Lewis was named the CFL rookie of the year, as he had 73 receptions for 1045 yards and eight touchdowns. The following season in 2005, Lewis had a career high in receiving yards with 1379.
Lewis won two Grey Cups with the Stampeders. The first came in 2008 and the second came in 2014.
Twice Lewis had 100 receptions in a season. In 2012 with the Stampeders, Lewis led the CFL with 100 catches. In 2016, his second last year with the Alouettes, he had a career high 102 catches.
In other Stampeders news this past week, former Stampeders kicker, wide receiver and defensive back Larry Robinson of Calgary, Alberta passed away at the age of 76 of cancer. Robinson played with the Stampeders from 1961-1975, winning a Grey Cup with Calgary in 1971. He was the first CFL player to record 1000 points. Robinson was inducted into the Canadian Football Hall of Fame in 1998 and into the Alberta Sports Hall of Fame in 2009.