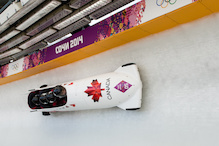 Team Canada salvaged a medal in World Cup bobsled action on Sunday from St. Moritz, Switzerland. After being blanked from the medals in women's bobsled and two-man bobsled action on Saturday, Chris Spring of Calgary, Alberta piloted Canada to a bronze medal finish in the four-man competition. 
Spring and Lascelles Brown of Calgary, Alberta along with Bryan Barnett and Neville Wright of Edmonton, Alberta posted a third place time of 2:08.95. They beat out Benjamin Maier, Stefan Laussegger, Markus Sammer and Danut Ion Moldovan of Austria by a tenth of a second, who finished in fourth place with a time of 2:09.05.
Germany won gold and silver. Johannes Lochner, Sebastian Mrowka, Josh Blum and Christian Rasp won the gold medal with a time of 2:08.42. Francesco Friedrich, Candy Bauer, Martin Grothkopp and Thorsten Margis of Germany won the silver medal with a time of 2:08.56.
Lochner leads the World Cup four-man standings with 1460 points. Friedrich is second with 1292 points. Justin Kripps of Summerland, British Columbia is third with 1252 points and Spring is in sixth with 1128 points.
The bronze in St. Moritz was Spring's second World Cup medal of the season. He also piloted Canada to a World Cup bronze medal to begin the season in Park City, Utah. Spring's bronze medal should give him some confidence as he prepares for the 2018 Olympic Winter Games in Pyeongchang.