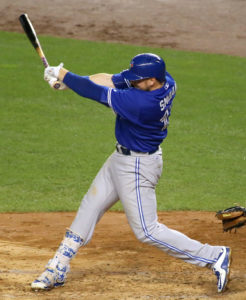 Justin Smoak of the Toronto Blue Jays made franchise history on Friday. First baseman Justin Smoak became the first Blue Jays player ever to hit a go-ahead pinch hit grand slam in a 6-5 win over the Miami Marlins.
The Blue Jays entered the ninth inning trailing 5-1 to Miami. Kendrys Morales began the inning with a single. He was followed by Randal Grichuk, who walked. Rookie catcher Danny Jansen then singled and scored when Devon Travis walked, which set up the Smoak plate appearance.
It should be noted that Smoak's grand slam came with two out. Earlier in the inning, Kevin Pillar and Aledmys Diaz struck out.
Unfortunately for Smoak, the historic grand slam will not be the most memorable Blue Jays moment on August 31, 2018. That moment will be reserved for the day the Blue Jays traded third baseman Josh Donaldson to the Cleveland Indians for a player to be named later. Donaldson, who was the 2015 American League Most Valuable Player while with the Blue Jays, had battled arm and calf injuries in 2018, and only played 36 games in 2018. In 137 at bats, Donaldson only batted .234 with five home runs and 16 runs batted in.
The Blue Jays also traded outfielder Curtis Granderson to the Milwaukee Brewers for Canadian outfield prospect Demi Orimoloye of Orleans, Ontario. In an interesting note, Orimoloye played on the Canadian National Team at the age of 15 in 2012. Granderson meanwhile batted .245 with 11 home runs and 35 runs batted in for the Blue Jays in 2018.