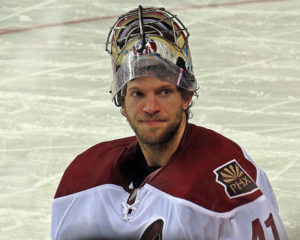 The Calgary Flames are continuing to play excellent hockey at the moment and are beating teams in different ways. On Thursday, Canadian Olympic gold medalist Mike Smith of Kingston, Ontario bounced back after a tough game in relief against the Columbus Blue Jackets on Tuesday (where the Flames won 9-6) with a 2-0 shutout win over the Minnesota Wild.
Smith made 11 saves in the first period, 14 saves in the second period and six saves in the third period for 31 saves overall. The Flames won the game despite being outshot 31-20.
It was Smith's second shutout of the season and 38th of his National Hockey League career. Earlier this season, Smith made 43 saves in a 3-0 Flames win over the Nashville Predators. However despite the two shutouts, it has been a bit of a struggle for Smith this season. He only has a save percentage of .892 and has been fighting the puck at times. In three games in 2018-19, Smith has given up five goals or more.
One area where the Flames did struggle on Thursday was their discipline. Flames captain Mark Giordano was suspended two games for kneeing Wild captain Mikko Koivu and Flames left winger Ryan Lomberg was suspended one game for instigating a fight in the final five minutes of the game.
The Flames meanwhile have a record of 18 wins, nine regulation losses and two overtime losses for 38 points. They lead the Anaheim Ducks by three points for first place in the Pacific Division. Smith meanwhile won his gold medal for Canada in men's hockey at the 2014 Olympic Winter Games in Sochi.