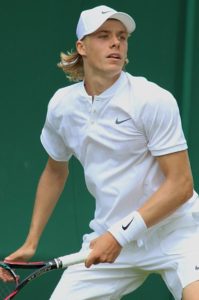 Denis Shapovalov of Toronto, Ontario reached the semifinals of the 2018 Japan Open in Tokyo, Japan on Friday. Shapovalov beat Jan-Lennard Struff of Germany 4-6, 7-6, 6-4 in the quarterfinals on Friday.
It was a strong victory for Shapovalov who displayed an outstanding degree of resiliency. In the second set tiebreak, Struff had a match point opportunity but was unable to close out the match even though he was leading Shapovalov 7-6 at the time. Shapovalov would win three key points in a row to win the set 9-7 in the tiebreak.
Shapovalov was unable to continue his momentum on Saturday in the semifinals. He lost in straight sets 6-3, 6-3 to Daniil Medvedev of Russia. Shapovalov was the second Canadian at the Japan Open that Medvedev beat. In the quarterfinals, Medvedev beat Milos Raonic of Thornhill, Ontario 7-6, 6-3.
Medvedev will now play Japan's Kei Nishikori in the final on Sunday. Nishikori will be looking for his third Japan Open title. His previous two wins in the final came over Raonic. In 2012, Nishikori beat Raonic 7-6, 3-6, 6-0 and in 2014 Nishikori beat Raonic 7-6, 4-6, 6-4. Raonic also advanced to the 2013 Japan Open Final but lost to Juan Martin Del Potro of Argentina 7-6, 7-5.
Raonic and Shapovalov will next play at the ATP 1000 Masters Series event in Shanghai that starts Monday from China. Raonic, seeded 14th, will play a qualifier in the first round. Shapovalov's first round opponent will be Nikoloz Basilashvili of Georgia.