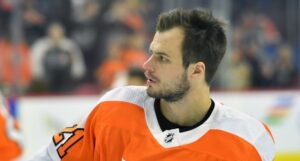 Scott Laughton of Oakville, Ontario scored his first career playoff overtime winner on Tuesday as the Philadelphia Flyers beat the New York Islanders 4-3 in game five of the Eastern Conference semifinals of the 2020 Stanley Cup Playoffs from Scotiabank Arena in Toronto, Ontario. Laughton scored from Claude Giroux of Hearst, Ontario and Ivan Provorov to keep the Flyers alive in the playoffs. They still trail the Islanders three games to two in the best out of seven series.
Two Canadians had a multi-point game for the Flyers. Travis Konecny of London, Ontario had two assists, while Giroux had one goal and one assist.
Philadelphia was a little lucky to come away with a game five win. The Flyers were leading the Islanders 3-1 with five minutes left in the second period. Then the Islanders tied it on goals by Derick Brassard of Hull, Quebec and Brock Nelson. Game six of the series goes Thursday. The winner of the series plays the Tampa Bay Lightning in the Eastern Conference Finals.
The Lightning eliminated the Boston Bruins in five games on Monday night. Tampa Bay is looking for its second Stanley Cup championship in franchise history. They previously beat the Calgary Flames in seven games in the 2004 Stanley Cup Final.