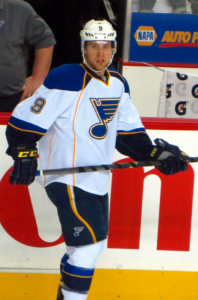 Jaden Schwartz of Wilcox, Saskatchewan recorded his first National Hockey League career playoff hat trick on Saturday as the St. Louis Blues defeated the Winnipeg Jets 3-2 in game six of the first round Western Conference playoff series at the Enterprise Center in St. Louis, Missouri. With the win, the Blues won the best out of seven series four games to two.
Schwartz scored all three of the Blues goals in the game. He opened the scoring from Brayden Schenn of Saskatoon, Saskatchewan at the 23 second mark of the first period. Schenn then put the Blues up 2-0 at 12:36 of the second period with a power play goal from Tyler Bozak of Regina, Saskatchewan and Vince Dunn of Lindsay, Ontario. Then, Schwartz's game winning goal came at 3:55 of the third period from Ryan O'Reilly of Clinton, Ontario and Canadian Olympic gold medalist Alex Pietrangelo of King City, Ontario.
In other action on Saturday, three Canadians recorded multi-point games for the Dallas Stars in their 5-3 win over the Nashville Predators. Canadian Olympic gold medalist Jamie Benn of Victoria, British Columbia had three assists, Jason Dickinson of Georgetown, Ontario had two goals and Tyler Seguin of Brampton, Ontario had two assists. With the win, the Stars took a 3-2 series lead on the Predators. Pietrangelo and Benn won the gold medal for Canada at the 2014 Olympic Winter Games in Sochi.