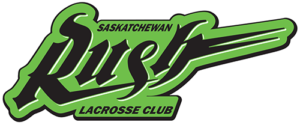 The Saskatchewan Rush have won game one of the 2018 National Lacrosse League Cup. On Saturday at the Sasktel Centre in Saskatoon, Saskatchewan, the Rush defeated Rochester Knighthawks 16-9 in game one of their best out of three series.
Robert Church of Coquitlam, British Columbia led the Rush in scoring with four goals and six points as he also picked up two assists. Church frequently generated opportunities as he had a game high 14 shots on goal. Ryan Keenan of Oshawa, Ontario also had a strong game for Saskatchewan offensively as he picked up the hat trick.
After the two teams tied at two goals apiece after the first quarter, Saskatchewan won the second, third and fourth quarters. They outscored Rochester 4-2 in the second quarter, 5-2 in the third quarter and 5-3 in the fourth quarter.
Church meanwhile seemed to single handedly shift the momentum of the game. In the second quarter, the Rush were trailing the Knighthawks 4-3 when Church scored three consecutive goals in a span of three minutes and three seconds to give Saskatchewan a 6-4 lead. Two of Church's goals in the second quarter were also unassisted with Matthew Dinsdale of Coquitlam, British Columbia picking up the only assist on the first three goals by Church.
Game two of the series will take place in Rochester on Saturday. If the Knighthawks win, the teams will return to Saskatoon on June 9 for game three.