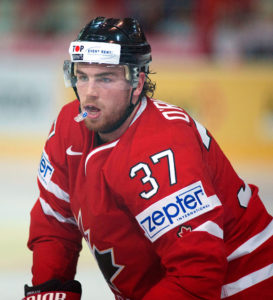 Ryan O'Reilly of Clinton, Ontario recorded his third career National Hockey League hat trick on Saturday. The St. Louis Blues captain had a four-point game (three goals and one assist) in a 5-3 Blues win over the Colorado Avalanche on April 24, 2021.
O'Reilly scored the first two Blues goals of the game. After trailing 2-0 to the Colorado Avalanche near the mid-way mark of the first period, O'Reilly put the Blues on the scoreboard at 9:49 of the first period from Brayden Schenn of Saskatoon, Saskatchewan. He then tied the game at two goals apiece from Schenn and Colton Parayko of St. Albert, Alberta at 12:40 of the first period. Then, OReilly scored the empty netter at 18:25 of the third period from Tyler Bozak of Regina, Saskatchewan to conclude the scoring in the hockey game.
O'Reilly was one of two Canadians with a multi-point game. Schenn had two assists. The other Blues player with a multi-point game was defenseman Torey Krug, who also had two assists. The two other Blues players with a goal were Mike Hoffman of Kitchener, Ontario, and Ivan Barbashev.
O'Reilly's two prior hat tricks came in a 4-1 Blues win over the Carolina Hurricanes on November 6, 2018, and in a 9-1 Blues win over the Minnesota Wild on April 9, 2021. On the season, O'Reilly has 20 goals and 23 assists for 43 points. He is also a +19 with nine power-play points, one shorthanded point, three game-winning goals, 102 shots on goal, 579 faceoff wins, 20 blocked shots, 21 hits, 30 takeaways, and 17 giveaways.
With the win, the Blues improve to a record of 20 wins, 19 regulation losses, and six losses in extra time for 46 points. They are one point back of the fourth-place Arizona Coyotes in the West Division.