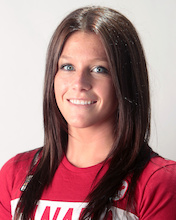 Brittany Rogers of New Westminster, British Columbia has won the gold medal for Canada in women's vault at the 2017 Universiade in Taipei, Taiwan. It was an extremely successful World University Games for the Canadian women's artistic gymnastics team, as they finished the multi-sport event with five medals (two gold medals, one silver medal and two bronze medals). Only Japan (12 medals), Russia (eight medals) and the Ukraine (six medals) earned more medals in women's artistic gymnastics than Canada.
In the women's vault, Rogers, who attends the University of Georgia, posted a winning score of 14.25 points. Lilia Akhaimova of Russia won the silver medal with 13.983 points. Maria Paseka of Russia won the bronze medal with 13.916 points. Rogers earned a podium spot by 0.397 points over her Canadian teammate Ellie Black of Halifax, Nova Scotia, who finished in fourth place with 13.853 points.
The fact that Rogers beat Paseka is significant. In her career, Paseka has won four Olympic medals. She won the silver medal in the women's team artistic gymnastics competition and a bronze medal in the women's vault at the 2012 Olympic Games in London and two silver medals (in the women's team artistic gymnastic competition and the women's vault) at the 2016 Olympic Games in Rio de Janeiro. The upset win by Rogers should not only give her a huge confidence boost heading into the 2017 World Artistic Gymnastics Championships on Canadian soil in Montreal, but the 2020 Olympic Games in Tokyo as well.