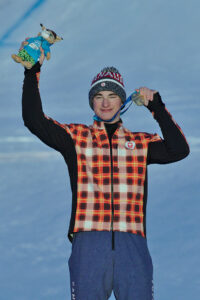 Reece Howden of Cultus Lake, British Columbia has already won the Crystal Globe for the 2020-21 World Cup men's ski cross season. On Saturday, Howden continued his marvelous stretch of competition by winning a World Cup men's ski cross race in Sunny Valley, Russia.
This was Howden's fourth World Cup gold medal and fifth of his career. He previously won gold this season in Val Thorens, France on December 21, and in Idre, Sweden on January 23 and 24. Howden also previously won in Nakiska, Alberta on January 18, 2020. He also has won seven World Cup ski cross medals.
On Saturday, Howden won his second qualification heat over Kristofor Mahler of Canmore, Alberta, beat Mahler again in the first quarterfinal heat, and finished second to Terence Tchiknavorian of France in the first semifinal heat. Ryo Sugai of Japan won the gold medal and Joos Berry of Switzerland won the silver medal.
In the World Cup men's ski cross standings, Howden leads with 662 points. Jonas Lenherr of Switzerland is second with 373 points. There is one more World Cup men's ski cross race this season. That will be in Veysonnaz, Switzerland on March 21. The World Cup gold medal for Howden on Saturday will give him confidence as he prepares for the 2022 Olympic Winter Games in Beijing.