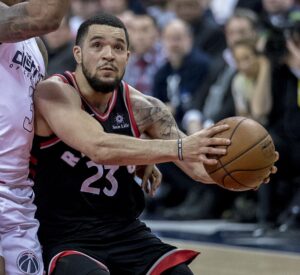 The Toronto Raptors have won their first four games on the road for the first time in franchise history. On Wednesday, the Raptors defeated the Washington Wizards 109-100 to improve their record so far this season to 4-0 on the road and a record of six wins and three losses for the season.
In the 10-point Toronto win, Fred VanVleet led the way with 33 points. Three other Raptors reached double figures in scoring. OG Anunoby had 21 points, while Gary Trent Jr. and Sviatoslav Mykhailiuk had 15 points each. Precious Achiuwa led the Raptors with 10 rebounds.
During the streak, Toronto also beat the Boston Celtics 115-83 on October 22 thanks to double-doubles by Scottie Barnes and Achiuwa. Barnes had 25 points and 13 rebounds. Achiuwa had 15 points and 15 rebounds. Then on October 30, Barnes once again had a double-double (21 points and 12 rebounds) in a narrow 97-94 win over the Indiana Pacers.
However it was a win in New York on Monday that deserved high praise within the Raptors organization. That is when Anunoby had a career-high 36 points in a 113-104 win over the much improved New York Knicks. It was a Canadian who led the Knicks in scoring as R.J. Barrett of Toronto, who had 27 points. Toronto's next road game is in Boston on November 10.