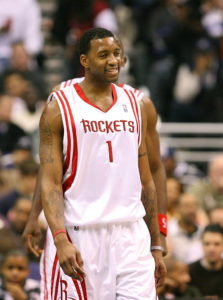 Former Toronto Raptors small forward Tracy McGrady of Bartow, Florida was inducted into the Naismith Memorial Basketball Hall of Fame in Springfield, Massachusetts on Friday. McGrady spent his first three seasons in the NBA with the Raptors from 1997 to 2000. He was the Raptors' first round draft pick, ninth overall, in the 1997 NBA Draft out of Mount Zion Christian Academy in Durham, North Carolina.
McGrady's best season in Toronto came in 1999-2000. He averaged 15.4 points per game, 6.3 rebounds per game and 3.3 assists per game. However even though McGrady was developing in Toronto, there seemed to be a family feud with his cousin, and fellow Raptors all-star at the time, Vince Carter. At the time, there was a belief that both players wanted the basketball and to be the star of the Raptors, and there was only room for one and not the other. The Raptors decided to keep Carter (who was known as Air Canada at the time) and trade McGrady to the Orlando Magic on August 3, 2000 for the first round draft pick in the 2005 NBA Draft. The Raptors selected Fran Vazquez of Spain, who played zero NBA games.
The Raptors kept Carter until 2004-05, and was an all-star for six seasons in Toronto. However, McGrady was even more productive in Orlando and Houston over the next seven seasons after being let go by the Raptors. He led the NBA in scoring in back-to-back years with the Magic. In 2003, McGrady had 32.1 points per game and in 2004 had 28 points per game.
Carter was the big name, but was at times defensively inept during his time in Toronto. He helped the Raptors make three postseasons, but one must wonder how good the Raptors could have been at the time if they kept McGrady and traded Carter? What do you think? Please let us know at www.canadiansportscene.com.