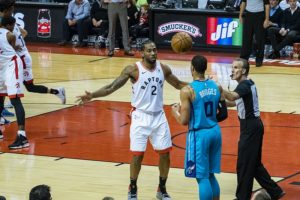 For the first time in Toronto Raptors franchise history, the Raptors have taken a three games to one series lead on their playoff opponent. On Sunday, the Raptors trounced the Orlando Magic 107-85 at the Amway Center in Orlando, Florida in game five of their Eastern Conference quarterfinal series.
In game five, Kawhi Leonard led the team in scoring with 34 points. Three other Raptors reached double digits in scoring as Norman Powell and Pascal Siakam each had 16 points and Serge Ibaka had 13 points. Ibaka led the Raptors with eight rebounds and Kyle Lowry led the Raptors with nine assists.
The Raptors have dominated the last three games of the series after losing game one by a score of 104-101. In game two, the Raptors had their most lopsided victory in postseason history as they defeated Orlando 111-82. Then in game three, the Raptors beat the Magic 98-93, but were in command throughout the contest, and led the Magic by 15 points (76-61) with 1:36 left in the third quarter.
So far in the Eastern Conference, two teams have already clinched a spot in the Eastern Conference semifinals. That is because the Boston Celtics swept the Indiana Pacers and the Milwaukee Bucks swept the Detroit Pistons. Meanwhile, the Philadelphia 76ers lead the Brooklyn Nets three games to one. Like the Raptors, the 76ers lost their first game of the series, but have won their last three.