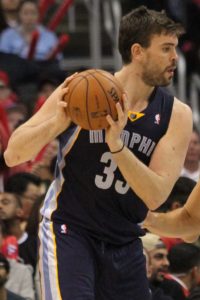 In one of the most noteworthy trades in Toronto Raptors history, the Raptors acquired center Marc Gasol for center Jonas Valanciunas, point guard Delon Wright, shooting guard C.J. Miles and a second round pick in the 2024 NBA Draft on Thursday. They also traded center Greg Monroe to the Brooklyn Nets with a second round draft pick for cash considerations.
The deals by Raptors president Masai Ujuri says one thing. The Raptors are all focused on this season, and are in a all-win mode now. At 39 wins and 16 losses, a playoff spot is definitely secure, but it is clear that they will have difficult playoff challenges against strong opponents such as the Boston Celtics, Milwaukee Bucks, Indiana Pacers and Philadelphia 76ers when the postseason comes around.
However, one might question why the Raptors are de-emphasizing the importance of depth and chemistry for one single player. There is no doubt that this move brings a lot of risk. Gasol has been dealing with a hand injury, but has averaged an impressive 15.7 points per game and a career high 7.5 defensive rebounds per game in 53 games with the Grizzlies this season. It is unlikely that Gasol, a three time all-star, will be in the Raptors lineup when they face the Atlanta Hawks on Thursday.
Valanciunas is coming back from a thumb injury. Like Gasol, Valanciunas is European, as Valanciunas is from Lithuania and Gasol is from Spain. He was averaging 12.8 points per game.
Wright, Miles and Monroe were very important components to the Raptors depth and would be very valuable if a core player on the Raptors team would get hurt in the coming months. So for now Raptors fans must hope, that the core starters of Kyle Lowry, Kawhi Leonard, Gasol, Pascal Siakam and Danny Green, along with players Serge Ibaka, Fred VanVleet, Norman Powell and OG Anunoby stay healthy. The top nine are excellent, and can help the Raptors make a deep run. Health is critical for this team to make the NBA Finals for the first time in franchise history.