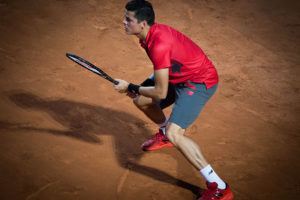 For the first time ever, Canada's top tennis players at the moment will play against each other on the ATP Tour. Milos Raonic of Thornhill, Ontario will face Denis Shapovalov of Richmond Hill, Ontario on Thursday in the third round of the Madrid Masters. 
In the tournament to date, Shapovalov beat Tennys Sandgren of the United States 6-1, 6-4 in the first round and Benoit Paire of France 7-6, 4-6, 6-4 in the second round. It was also his first two ATP Tour victories on clay in his career.
Raonic meanwhile beat Nicolas Kicker of Argentina 6-3, 6-2 in the first round and then Grigor Dimitrov of Bulgaria 7-5, 3-6, 6-3 in the second round. Raonic's win over Dimitrov was very significant because Dimitrov was the third seed in the tournament and that he won a Tennis 1000 Masters Series event last year in Cincinnati. In the final, Dimitrov beat the controversial Nick Kyrgios of Australia 6-3, 7-5.
If the match were to occur on Wednesday in Madrid, I would give the slight edge to Shapovalov because Raonic's match against Dimitrov was gruelling. However the day of rest should help Raonic and the Dimitrov match should not impact him too much. Another factor in Raonic's favour is the surface. Raonic has a lot more experience on clay than Shapovalov, which should help him. Seven times before Raonic has advanced to the quarterfinals of a Masters Series event on clay, with his best result advancing to the semifinals of the 2014 Italian Open. Raonic has also reached the quarterfinals of the French Open.