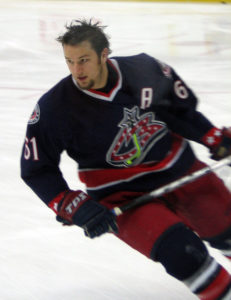 The New York Rangers have traded Canadian Olympic gold medalist Rick Nash to the Boston Bruins. The trade, which was finalized on Monday, saw the Rangers receive Ryan Spooner, Matt Beleskey, Ryan Lindgren and two Bruins draft picks in return. The draft picks were the Bruins first round draft pick in the 2018 National Hockey League Entry Draft and a seventh round draft pick in the 2019 National Hockey League Entry Draft.
In 2017-18, Nash played 60 games for the Rangers and had 18 goals and 10 assists for 28 points. He was a -8 with 24 penalty minutes, four power play points, two game winning goals and 189 shots on goal.
Nash's frequency in shooting the puck is something the Bruins probably were impressed with. However it should be noted that Nash has seen an offensive drop in production from his career high 79 points with the Columbus Blue Jackets in 2008-09.
Always recognized as a goal scorer, Nash won the Rocket Richard Trophy for leading the NHL in goals in 2003-04 while with the Blue Jackets. That year he had 41 goals, Twice more Nash has reached the 40 goal plateau. He had 40 goals with the Blue Jackets in 2008-09 and 42 goals with the Rangers in 2014-15. That year with the Rangers he also led the NHL with 32 even strength goals.
Twice Nash win the gold medal for Canada in men's hockey at the Olympic Winter Games. The first came at the 2010 Olympic Winter Games in Vancouver and the second came at the 2014 Olympic Winter Games in Sochi.