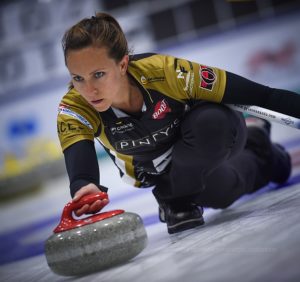 Rachel Homan of Ottawa, Ontario won the 11th Grand Slam of Curling event of her career on Monday. In the final of the 2021 Humpty's Champions Cup, Homan defeated Silvana Tirinzoni of Switzerland 6-3 at the Markin MacPhail Centre in Calgary.
In the championship game, the key end was the third, as Homan picked up a deuce. Tirinzoni, who throws third stones, hit and knocked out a Team Homan stone, but her shooter rolled to the back of the 12 foot. That was followed by a double takeout by Team Homan third Emma Miskew of Ottawa. The shot allowed Homan to pick up a deuce, at the time take a 3-1 lead, and complete control of the match.
In the final end, Team Tirinzoni fourth player Alina Patz had a very difficult double raise, double takeout for the tie. They were able to remove one Team Homan stone, but not two. Homan stole a point, and was victorious by three points.
For the tournament, Team Homan lost her first game by a score of 6-3 to 2021 Scotties Tournament of Hearts champion Kerri Einarson of Gimli, Manitoba. Then, Homan rattled off six straight wins to take the title. She beat Elena Stern of Switzerland 7-3, Alina Kovaleva of Russia 8-7, and Tabitha Peterson of the United States 8-2 in Pool A action, before beating Satsuki Fujisawa of Japan 5-4 in the quarterfinals, and Einarson 5-3 in the semifinals. Homan's grand slam title on Monday came just 25 days after giving birth to her daughter Bowyn.