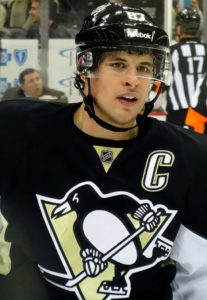 The Quebec Major Junior Hockey League has retired the number 87 throughout the league. In a ceremony that took place in Rimouski, Quebec on Friday, the QMJHL recognized and paid tribute to the offensive excellence of hockey player Sidney Crosby of Cole Harbour, Nova Scotia.
Crosby, who is a two-time Canadian Olympic gold medalist, played two seasons for the Rimouski Oceanic of the QMJHL from 2003-2005. In the 2003-04 season, he had 54 goals and 81 assists for 135 points and in 2004-05, Crosby had 66 goals and 102 assists for 168 points. However despite having a great 2004-05 season, the Oceanic lost 4-0 to the London Knights in the 2005 Memorial Cup Final in London, Ontario.
Mario Lemieux of Montreal, Quebec has the record for most goals and points in a QMJHL single season. He had 133 goals and 282 points with the Laval Voisins in 1983-84. Pierre Larouche of Taschereau, Quebec has the QMJHL record or most assists in a season. He had 157 assists with the Sorel Black Hawks in 1973-74.
Crosby won the gold medal for Canada in men's hockey at the 2010 Olympic Winter Games in Vancouver and the 2014 Olympic Winter Games in Sochi. At the Olympic Winter Games in Vancouver, Crosby was known for scoring the famous golden goal in a 3-2 win over the United States.
At the National Hockey League level, Crosby also won three Stanley Cups with the Pittsburgh Penguins in 2009, 2016 and 2017. In 943 regular season games, Crosby has 446 goals and 770 assists for 1216 points.