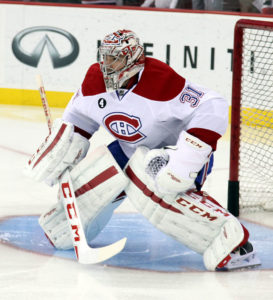 Carey Price of Vancouver, British Columbia recorded his second shutout of the 2018-19 National Hockey League regular season on Thursday. He made 33 saves as the Montreal Canadiens beat the Vancouver Canucks 2-0 at the Bell Centre.
Price made five saves in the first period, 17 saves in the second period and 11 saves in the third period. He previously shutout the Boston Bruins this season on October 27. Ironically, that same night Price once again made 33 saves.
Two Canadians scored for the Canadiens in the two goal victory. Jordie Benn of Victoria, British Columbia scored for the Canadiens at 11:50 of the first period from Jesperi Kotkaniemi and Joel Armia to put the Canadiens up 1-0. Then at 8:24 of the second period, Jonathan Drouin of Sainte-Agathe-des-Monts, Quebec scored from Max Domi of Winnipeg, Manitoba, to put the Canadiens up 2-0.
For Price, it was his 42nd career shutout. All 42 shutouts have come with the Canadiens.
In 31 games with the Canadiens this season, Price has a record of 16 wins, 10 regulation losses and four losses in extra time. He has a goals against average of 2.75 and a save percentage of .908. The Canadiens currently hold the eighth and final playoff spot in the Eastern Conference. They lead the New York Islanders by one point.