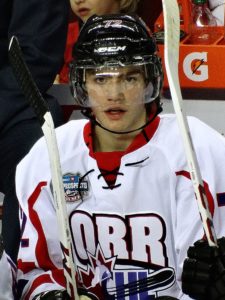 Brayden Point of Calgary, Alberta had the sixth fastest natural hat trick in National Hockey League history on Thursday as the Pittsburgh Penguins defeated the Tampa Bay Lightning 4-3 at the PPG Paints Arena in Pittsburgh, Pennsylvania.Point notched his hat trick in 91 seconds with all three of his goals coming on the power play. The Penguins got into serious penalty trouble at the time of the hat trick as Evgeni Malkin and Matt Cullen were in the penalty box with tripping penalties and Phil Kessel was in the penalty box with a slashing penalty.
With the Lightning down 2-0 at the time, Point scored Tampa Bay's first goal with three seconds left in the first period from Tyler Johnson and Nikita Kucherov. He then scored early in the second period at the 41 second mark from Steven Stamkos of Markham, Ontario and Kucherov. Point then put the Lightning up 3-2 from J.T. Miller and Kucherov at 1:28 of the second period. With the win, the Lightning are now tied with the Nashville Predators for the most points in the NHL with 27.
Point was not the only Canadian to record a hat trick on Thursday. Anthony Beauvillier of Sorel-Tracy, Quebec also scored thrice in a 7-5 New York Islanders win over the New York Rangers. This hat trick was very unexpected as Beauvillier entered the game with only one goal and one point in his first 16 NHL games this season. On Thursday, Beauvillier had a four point night as he had three goals and one assist.
With the Rangers up 2-0 at the time, Beauvillier scored the Islanders first goal at 9:35 of the first period from Thomas Hickey of Calgary, Alberta and Valtteri Filppula. Then with the score tied at two goals apiece, Beauvillier scored at 2:24 of the second period to put the Islanders up 3-2. Filppula and former Toronto Maple Leafs center Leo Komarov picked up the assists. Beauvillier then notched his first NHL career hat trick at 5:13 of the second period on the power play from Johnny Boychuk of Edmonton, Alberta and Mathew Barzal of Coquitlam, British Columbia to put the Islanders up 4-3 at the time. The Islanders are now in second place in the Metropolitan Division and only two points back of the division leading Columbus Blue Jackets.