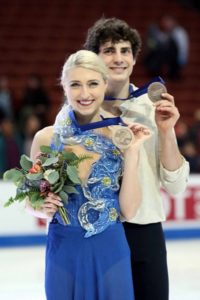 Piper Gilles and Paul Poirier of Ottawa, Ontario won the gold medal for Canada on Saturday at the 2021 Skate Canada from the Doug Mitchell Thunderbird Sports Centre in Vancouver, British Columbia. For Gilles and Poirier it was their second Skate Canada title as they previously won in Kelowna, British Columbia in 2019.
Gilles and Poirier posted a score of 210.97 points to take gold. They reached the podium by 24.43 points over Caroline Green and Michael Parsons of the United States. Green and Parsons had a score of 186.51 points. Charlene Guignard and Marco Fabbri of Italy won the silver medal with a score of 200.05 points. Olivia Smart and Adrian Diaz of Spain won the bronze medal with a score of 192.93 points.
Even though Gillies and Poirier struck gold in Vancouver this past weekend and won the bronze medal in ice dance at the 2021 World Figure Skating Championships in Stockholm, it is going to be a challenge for them to reach the podium at the 2022 Olympic Winter Games in Beijing. That is because the four-time world champions, and reigning Olympic silver medalists Gabriella Papadakis and Guillaume Cizeron of France, are the definite gold medal favourites, while the American ice dance teams of Madison Hubbell and Zachary Donohue as well as Madison Chock and Evan Bates are also strong medal contenders as well. However one must realize that Gillies and Poirier posted a better score than the American teams at Skate America from Las Vegas, Nevada a week ago. Hubbell and Donohue were at 209.54 points in winning gold, while Chock and Bates were at 208.23 points in winning silver.