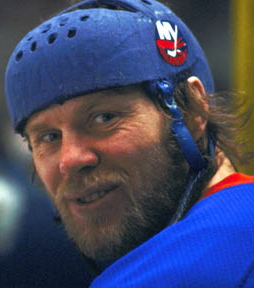 The New York Islanders announced on Wednesday, they would retire the numbers 91 and 27. The number 91 was worn by Islanders centre Butch Goring of Winnipeg, Manitoba and the number 27 was worn by Islanders left winger John Tonelli of Hamilton, Ontario.
Goring and Tonelli each won four consecutive Stanley Cups with the Islanders from 1980 to 1983. Goring played six seasons with the Islanders from 1979 to 1985 and Tonelli played eight seasons with the Islanders from 1978 to 1986.
While with the Islanders, Goring had 87 goals and 108 assists for 195 points in 332 National Hockey League regular season games. He was a +11 with 30 penalty minutes, 26 power play points, 21 shorthanded points, 10 game winning goals and 439 shots on goal.
The major reason why Goring is having his number retired is because he won the Conn Smythe Trophy as the most valuable player in the Stanley Cup Playoffs with the Islanders in 1981. That year the Islanders won their second Stanley Cup in franchise history as New York beat the Minnesota North Stars in five games in the Stanley Cup Final. Goring had 10 goals and 10 assists for 20 points in 18 playoff games.
Tonelli had 206 goals and 338 assists for 544 points in 594 NHL regular season games. He was a +215 with 473 penalty minutes, 105 power play points, five shorthanded points, 29 game winning goals and 1108 shots on goal. Tonelli's best NHL season came in 1984-85, when he had career highs in goals (42) and points (100). In 113 playoff games, Tonelli had 28 goals and 55 assists for 83 points.
Tonelli will have his number 27 retired on February 21 against the Detroit Red Wings and Goring will have his number 91 retired on February 29 against the Boston Bruins. The Islanders have retired the numbers of six players before and five players are Canadian born. They are centre Bryan Trottier (#19) of Val Marie, Saskatchewan, goaltender Billy Smith (#31) of Perth, Ontario, defenseman Denis Potvin (#5) of Vanier, Ontario, left winger Clarke Gillies (#9) of Moose Jaw, Saskatchewan and right winger Mike Bossy (#22) of Montreal, Quebec.