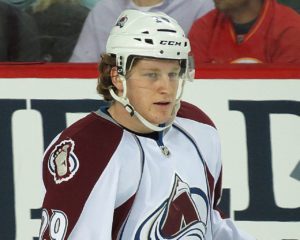 Nathan MacKinnon of Springhill, Nova Scotia is having a marvelous Stanley Cup playoff. On Wednesday evening at Rogers Place in Edmonton, MacKinnon continued his offensive surge for the Colorado Avalanche by collecting one goal and one assist for two points in a 4-1 Colorado win over the Dallas Stars. With the win, the Colorado Avalanche prevented being eliminated from the 2020 Stanley Cup Playoffs and forced a game seven with the Dallas Stars in the Western Conference semifinals.
MacKinnon registered both of his points in the third period. He picked up a primary assist on a goal by Mikko Rantanen at 3:21 of the third period for a key insurance goal to put Colorado up 3-1. The Avalanche also got an empty netter from MacKinnon at 17:14 of the third period to put Colorado up 4-1.
In the 2021 Stanley Cup Playoffs to date, MacKinnon leads all players with nine goals, 16 assists, and 25 points. He also leads in plus/minus as he is a +13. One could argue it has been one of the most dominant playoff performances over the first two rounds of the Stanley Cup Playoffs in recent memory.
However, MacKinnon and the Avalanche have work to do to advance to round three. The series is currently tied at three games apiece with game seven in Edmonton on Friday. The Avalanche, who were once down three games to one in their series with the Stars, are trying to follow in the footsteps of the Denver Nuggets in the 2020 NBA Playoffs. In the Western Conference quarterfinal series, the Nuggets were trailing the Utah Jazz three games to one, but came back to win four games to three. The top player on the Nuggets in the series was Jamal Murray of Kitchener, Ontario.