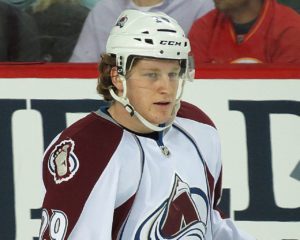 The Colorado Avalanche are still alive in the 2020 Stanley Cup Playoffs after their 6-3 win over the Dallas Stars on Monday night from Rogers Place in Edmonton, Alberta. In game five of the Western Conference semifinal, Nathan MacKinnon of Springhill, Nova Scotia had one goal and one assist for two points.
MacKinnon was also solid defensively throughout the evening as he was a game-high +4, and led all players with six shots on goal. MacKinnon scored Colorado's third goal of the game at 12:32 of the first period from Ryan Graves of Yarmouth, Nova Scotia and J.T. Compher. MacKinnon's assist came on a goal by Andre Burakovsky at 18:04 of the second period, which put Colorado up 6-2 at the time.
With the win, the Avalanche still trail the Stars three games to two in the best out of seven series. Game six is Wednesday.
Meanwhile in the Eastern Conference semifinal, Brayden Point of Calgary, Alberta had two assists as the Tampa Bay Lightning beat the Boston Bruins 3-2 in double overtime. With the win, the Lightning beat the Bruins four games to one in the best out of seven series. Point got assists on goals by Anthony Cirelli of Woodbridge, Ontario, and the game winning goal by Victor Hedman at 14:10 of the second overtime period.