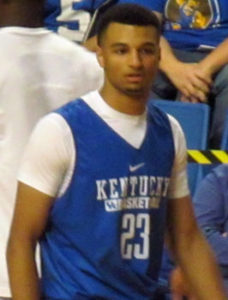 Jamal Murray of Kitchener, Ontario tied the record for most points scored by a Canadian in a NBA game on Monday.The Denver Nuggets guard scored 48 points on Monday in a 115-107 win over the Boston Celtics.
Murray tied the record previously set by Canadian basketball icon Steve Nash of Victoria, British Columbia. Nash scored 48 points for the Phoenix Suns in a 119-109 loss to the Dallas Mavericks in game four of the Western Conference Semi-Finals on May 15, 2005. Even though the Suns lost that game, Phoenix did win the best out of seven series, four games to two as Nash scored 34 points in game five and 39 points in game six of the series.
In the Nuggets win over the Celtics on Monday. Murray also had five rebounds and four assists. Of his 48 points, Murray scored five points from the free throw line and 15 points from beyond the arc.
Murray has now reached double digits in scoring in his last seven games since only scoring three points in a 100-98 win over the Golden State Warriors on October 21. That has been the only loss for the Warriors this season.
Murray meanwhile leads the Nuggets with 18.9 points per game. David Thompson meanwhile has the Nuggets record for most points in a game. He scored 73 points in a 139-137 loss to the Detroit Pistons on April 9, 1978.