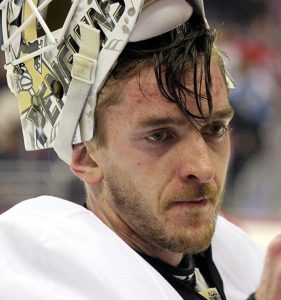 Pittsburgh Penguins goaltender Matt Murray of Thunder Bay, Ontario recorded his second shutout of the season on Saturday in a 3-0 win over the Carolina Hurricanes at the PNC Arena in Raleigh, North Carolina. Murray made 39 saves in the contest.
Murray made 11 saves in the first period, eight saves in the second period, and 20 saves in the third period. Kris Letang of Montreal, Quebec scored the game winning goal for the Penguins at 8:41 of the first period. Penguins captain Sidney Crosby of Cole Harbour, Nova Scotia was involved in all three Penguins goals as he notched three assists.
Murray has struggled at times this season. He has a rather high goals against average of 3.40 (the worst of his National Hockey League career) and a save percentage of .900. His record of seven wins, five regulation losses and one overtime loss this season, is not as productive as his first three NHL seasons when he had an overall record of 68 wins, 28 regulation losses and eight losses in extra time. One cannot also ignore the fact that Murray was instrumental in leading the Penguins in back-to-back Stanley Cup championships in 2016 and 2017.
The Penguins meanwhile are in third place in the Metropolitan Division heading into the Christmas break with 42 points. They trail the Washington Capitals at 47 and the Columbus Blue Jackets at 45 points. After the Penguins struggled in mid-November with only one win in 10 games, they have been very good in the last month. In their last 17 games, the Penguins have a record of 11 wins, four regulation losses and two losses in extra time.