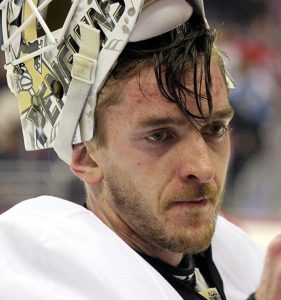 Matt Murray of Thunder Bay, Ontario recorded his ninth career NHL shutout on Friday in the Pittsburgh Penguins' 4-0 win over the Winnipeg Jets at the PPG Paints Arena in Pittsburgh, Pennsylvania. Murray made 33 saves overall for his third of the season and ninth of his career.
Murray made seven saves in the first period, 11 saves in the second period and 15 saves in the third period. Of the four Penguins goal scorers, one was Canadian, as Kris Letang of Montreal, Quebec scored with 3:22 left in the hockey game to put the Penguins up 4-0. Penguins captain Sidney Crosby of Cole Harbour, Nova Scotia and Matt Cullen picked up the assists.
On the season, Murray has a record of 11 wins, five regulation losses, one loss in extra time, a goals against average of 2.89 and a save percentage of .913. Murray's previous two shutouts this season came on October 18 in a 3-0 Penguins win over the Toronto Maple Leafs and on December 22 in a 3-0 Penguins win over the Carolina Hurricanes.
The Penguins are the hottest team in the National Hockey League at the moment. Winners of eight straight games, they are now in a first place tie with the Washington Capitals in the Metropolitan Division with 52 points. It has been a remarkable turnaround in a very short period of time for Pittsburgh. In the latter part of November, the Penguins were actually one of the worst teams in the National Hockey League.