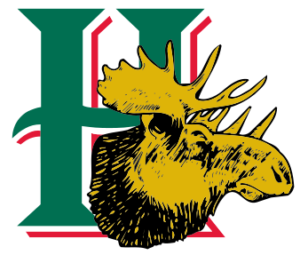 In a strange turn of events, the Halifax Mooseheads lost 4-3 to the Rouyn-Noranda Huskies at the 2019 Memorial Cup on Wednesday but celebrated when the third period buzzer went off. That is because with a one goal loss and the fact they prevented the Huskies to fewer than five goals, Halifax clinched first place after the round robin portion of the schedule.
The Mooseheads, Huskies and Ontario Hockey League champion Guelph Storm all had a record of two wins and one loss, and beat each other over the first six days of the Canadian major junior hockey tournament at the Scotiabank Centre in Halifax, Nova Scotia. In the goals for and against in games played among the tied teams, the Mooseheads and Storm were each a +1, while the Huskies were a -2.
The Mooseheads and Storm also outscored their opponents 7-6 in games played among the tied teams, meaning they then had to take a look at the results the Mooseheads and Storm had against the Western Hockey League champion Moose Jaw Warriors. Here, the Mooseheads and Storm each beat the Raiders by three goals. However, the Mooseheads gave up one fewer goal (one) in their win against Prince Albert than the Storm, which gave up two goals to the Raiders.
On Friday evening, the Huskies will face the Storm in the Memorial Cup semifinal. The winner will face the Mooseheads in the final on Sunday.