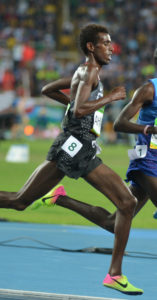 Mohammed Ahmed of St. Catharines, Ontario has won Canada's third medal at the 2019 International Association of Athletics Federation World Championships in Doha, Qatar.  On Monday, Ahmed won his first career IAAF World Championship medal when he won bronze in the men's 5000 metres.
Ahmed posted a third place time of 13 minutes and 1.11 seconds. Muktar Edris of Ethiopia won the gold medal with a seasonal best time of 12 minutes and 58.85 seconds. Selemon Barega of Ethiopia won the silver medal with a time of 12 minutes and 59.7 seconds.
Ahmed, who actually had the lead during a portion of the race, earned the bronze medal by 1.18 seconds. Telahun Haile Bekele of Ethiopia finished in fourth place with a time of 13 minutes, 2.29 seconds.
The fact that Ahmed prevented an Ethiopian sweep is significant. An Ethiopian has been on the podium in the men's 5000 metres in nine of the last 10 IAAF World Championships.
There is no doubt that the bronze medal that Ahmed earned in Doha, was his greatest achievement in his athletics career. He has previously won the gold medal in the men's 10000 metres at the 2015 Pan American Games in Toronto, two silver medals (in the men's 5000 metres and men's 10000 metres) at the 2018 Commonwealth Games in Gold Coast, Australia and one Diamond League medal (a bronze at the 2016 Eugene Prefontaine Classic in Oregon). The bronze medal for Ahmed will give him confidence as he prepares for the 2020 Olympic Games in Tokyo.