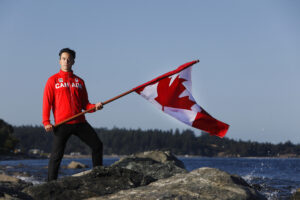 According to the Canadian Olympic Committee on Monday, women's basketball player Miranda Ayim of Chatham-Kent, Ontario, and Canadian men's rugby sevens captain Nathan Hirayama of Richmond, British Columbia, have been named the flag bearers for Canada in the opening ceremonies of the 2020 Olympic Games in Tokyo in 2021. Ayim is 33 years old, and will be competing in her third Olympic Games for Canada, while Hirayama is the all-time scorer in the Canadian men's rugby sevens program in World Rugby Sevens Series events with 1859 points. In fact, he is third all-time in World Men's Rugby Sevens Series scoring. He only trails Ben Gollings of England (2652 points), and Tomasi Cama of Fiji (2028 points).
This will be the first time that Canada has qualified for the Olympic Games in men's rugby sevens. Hirayama is looking forward to the experience, and being a part of Canadian sports history.
"This is extremely meaningful for the whole team, especially after failing to qualify in Rio five years ago. That is something we really, really wanted to do and that was to be in Rio. Having gone through that, and put in all the hard work over the last five years to get to Tokyo, with this group of people is something special, and something we are really excited about."
Ayim is part of a Canadian women's basketball team that is trying to make that next step at the Olympic Games. At the 2012 Olympic Games in London, and the 2016 Olympic Games in Rio de Janeiro, Team Canada reached the quarterfinals. In a Zoom conference call today where canadiansportscene.com was invited to, Ayim discusses what Canada will need to do to reach that next step, and reach the semifinals.
"It has definitely been a building process for us," states Ayim. "We have worked long and hard to get to this moment right now. Qualifying for three straight Olympic Games is huge for us in basketball. We have been building on each of our successes and failures the past 10 years, and more than that now. For us, we are not trying to look too far into the future. Our first mission is our first game against Serbia (July 26 at 2:20 am MT), and then we will tackle each challenge as it comes. That is the important thing for us is to stay focused and dialed in because we cannot project too far into the future. We are going to take care of those small details that we need to take care of, do all the homework that we need to do on our opponents, and then show up and play."
The opening ceremonies of the 2020 Olympic Games in Tokyo in 2021 will take place Friday morning at 5:30 am MT. Action will then follow later that day.