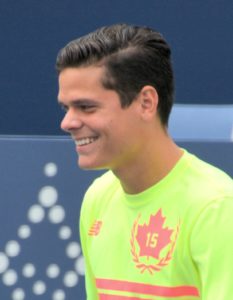 Milos Raonic of Thornhill, Ontario is in the semifinals of the 2020 Rolex Paris Masters. On Friday, Raonic defeated Ugo Humbert of France in a dramatic quarterfinal, 6-3, 3-6, 7-6.
The story of the match was the third set tiebreak. Raonic was able to come back and defeat Humbert 9-7 even though he was trailing 5-1 at a particular time. In the seventh point in the tiebreak, Raonic was able to win the point despite the fact he was not serving. He then won the next two points to pull within one at 5-4, and then delivered another key mini-break when Humbert was serving for the match at 6-4. The mini-break which Raonic won to make the score 6-5 Humbert, was a 30-shot rally, which the ATP Tour simply called epic. From there, Raonic won four of the next five points to win the match.
Raonic will now play Daniil Medvedev of Russia in the semifinals on Saturday. Medvedev, the third seed in Paris, defeated the sixth seed, Diego Schwartzman of Argentina, 6-3, 6-1 on Friday in another quarterfinal match. Raonic is 0-2 all-time against Medvedev. The wins by the Russian came in the quarterfinals of the 2018 Japan Open and the 2019 Brisbane International.
Raonic and Medvedev are grand slam finalists. Raonic reached the 2016 Wimbledon Final and Medvedev reached the 2019 U.S. Open Final. The other semifinal at the 2020 Rolex Masters has the no. 1 seed Rafael Nadal of Spain up against the no. 4 seed Alexander Zverev of Germany.