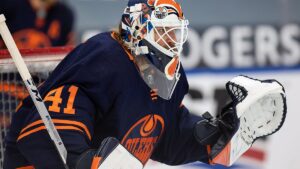 Canadian Olympic gold medalist Mike Smith of Kingston, Ontario notched his 42nd career National Hockey League shutout on Saturday. Smith made 26 saves as the Oilers blanked the Winnipeg Jets 3-0 at Bell Manitoba Telecom Services Place in Winnipeg, Manitoba.
Smith made nine saves in the first period, four saves in the second period, and 13 saves in the third period. Logan Stanley of Kitchener, Ontario, and Nikolaj Ehlers each led the Jets with four shots on goal each.
Three Oilers had multi-point games. Tyson Barrie of Victoria, British Columbia, Connor McDavid of Richmond Hill, Ontario, and Leon Draisaitl each had two points. Barrie had one goal and one assist, while McDavid and Draisaitl each had two assists. The other Oilers' goal scorers were Alex Chiasson of Montreal, Quebec, and Jesse Puljuajarvi.
With the shutout, Smith now improves to 15 wins, four regulation losses, and two losses in extra time. He has three shutouts, a goals-against average of 2.36, and a save percentage of .922. Smith's other shutouts this season came in a 3-0 Oilers win over the Montreal Canadiens on February 11, and in a 3-0 Oilers win over the Vancouver Canucks on February 25.
Of Smith's 42 career NHL shutouts, 22 came with the Arizona/Phoenix Coyotes, six with the Tampa Bay Lightning, five each with the Dallas Stars and Calgary Flames, and now four with the Oilers. Smith won his Olympic gold medal for Canada at the 2014 Olympic Winter Games in Sochi. 
The Oilers are in third place in the North Division with 54 points. They are three points back of the second-place Winnipeg Jets.