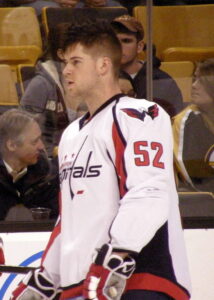 According to the Canadian Press on Saturday, two more Canadian National Hockey League players have decided not to join their respective teams for the resumption of the 2019-20 season. They are Edmonton Oilers defenseman Mike Green of Calgary, Alberta, and Montreal Canadiens defenseman Karl Alzner of Burnaby, British Columbia.
Green played 50 games this season with the Detroit Red Wings and Oilers. He had three goals and eight assists for 11 points, was a -34 with 32 penalty minutes, four power play points, one game winning goal, 76 shots on goal, 66 blocked shots, 61 hits, 12 takeaways and 41 giveaways. Green's game winning goal came in a 2-1 Red Wings' win over the Canadiens on December 14.
The reason for Green's decision was related to family matters. His decision is a little surprising when you consider the fact that Green was going to be on an Oilers squad that would not be travelling, as all of their games would be based in Edmonton.
Alzner meanwhile had played in four games with the Canadiens this season and was a -1. He had four shots on goal, one hit, and one giveaway. No reason was given by Alzner for his decision.
In the National Hockey League qualifying round, the Oilers will play the Chicago Blackhawks. Meanwhile, the Canadiens will play the Pittsburgh Penguins in Toronto.