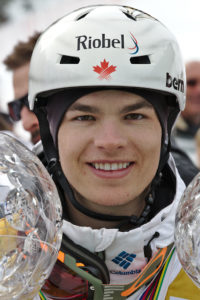 Canadian Olympic gold medalist Mikael Kingsbury of Sainte-Agathe-des-Monts, Quebec is heading into the 2022 Olympic Winter Games in Beijing in top form. On Thursday in Deer Valley, Utah, Kingsbury placed first at a World Cup for his 100th World Cup medal in his career. He has previously won 71 gold medals, 23 silver medals, and six bronze medals in his remarkable moguls career.
In Thursday's competition, Kingsbury posted a score of 83.28 points. Ikuma Horishima of Japan won the silver medal with 81.98 points. Kosuke Sugimoto of Japan won the bronze medal with 79.02 points. Kingsbury reached the podium by six full points over Ludvig Fjallstrom of Sweden, who finished in fourth place with a time of 77.28 points.
In the World Cup men's moguls standings, Kingsbury leads with 492 points. Horishima is in second with 460 points.
Kingsbury won his Olympic gold medal in men's moguls at the 2018 Olympic Winter Games in Pyeongchang. He also won a silver medal in men's moguls at the 2014 Olympic Winter Games in Sochi, where he placed behind Canadian Olympic gold medalist Alexandre Bilodeau of Rosemere, Quebec.
The final men's World Cup moguls event prior to the 2022 Olympic Winter Games in Beijing will be on Friday in Deer Valley, Utah. The Olympic men's moguls competition will then take place on February 5.