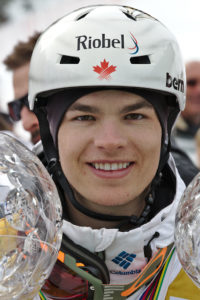 Canadian Olympic gold medalists Mikael Kingsbury of Sainte-Agathe-des-Monts, Quebec and Justine Dufour-Lapointe of Montreal, Quebec each won World Cup moguls medals in Thaiwoo, China on Saturday. Kingsbury won a silver medal in the men's competition and Dufour-Lapointe won a bronze medal in the women's competition.
In men's moguls, Kingsbury posted a score of 86.29 points. He reached the podium by 3.1 points over Matt Graham of Australia, who was in fourth place with 83.19 points. Ikuma Horishima of Japan won the gold medal with 86.89 points and Benjamin Cavet of France won the bronze medal with 83.28 points.
Kingsbury, who won the gold medal in men's moguls at the 2018 Olympic Winter Games in Pyeongchang, leads the World Cup men's moguls standings with 280 points. Horishima is second with 240 points.
In women's moguls, Dufour-Lapointe posted a World Cup score in Thaiwoo of 74.29 points. Perrine Laffont of France won the gold medal with 81.37 points and Yulia Galysheva of Kazakhstan won silver with 79.77 points. Dufour-Lapointe reached the podium by 2.18 points over Jakara Anthony of Australia, who was in fourth place with 72.11 points.
Dufour-Lapointe, who won the gold medal in women's moguls at the 2014 Olympic Winter Games in Sochi, is fourth in the World Cup standings with 124 points. Laffont leads with 300 points.
Kingsbury has now won 56 World Cup men's moguls medals. Dufour-Lapointe has now won 29 World Cup women's moguls medals. The medals in Beijing on Saturday will give Kingsbury and Dufour-Lapointe confidence as they prepare for the 2022 Olympic Winter Games in Beijing.The top mogulists in the world will be competing on the Thaiwoo course at the Olympic Winter Games just over two years from now.