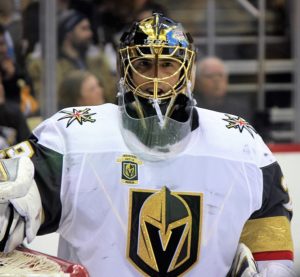 Canadian Olympic gold medalist Marc-Andre Fleury of Sorel, Quebec notched his 65th National Hockey League career shutout on Saturday. He made 24 saves as the Vegas Golden Knights defeated the San Jose Sharks 4-0. Fleury's 65 shutouts are 16th on the NHL all-time list and he is also the active leader in shutouts.
Fleury made eight saves in the first period, nine saves in the second period, and seven saves in the third period. Evander Kane of Vancouver, British Columbia led the Sharks with four shots on goal.
Offensively for the Golden Knights on Saturday, Vegas got one goal each from Mark Stone of Winnipeg, Manitoba and Reilly Smith of Etobicoke, Ontario. Alex Tuch of Syracuse, New York led the Golden Knights with two goals, and was the only player on the Golden Knights to have a multi-point game.
It has been a marvelous season for Fleury, who won the gold medal for Canada at the 2010 Olympic Winter Games in Vancouver. In fact, this could be his best season ever. He has a record of 12 wins and three losses, with a NHL-best goals against average of 1.60, a NHL-best save percentage of .942, and four shutouts, which also leads the NHL. Fleury's other three shutouts this season came on January 24, in a 1-0 Golden Knights win over the Arizona Coyotes, on Valentine's Day in a 1-0 Golden Knights win over the Colorado Avalanche, and in a 3-0 Golden Knights win over the Avalanche on February 22.
The Golden Knights now lead the West Division with 33 points. They have a record of 16 wins, four regulation losses, and one loss in extra time. Vegas leads the second-place St. Louis Blues by two points.