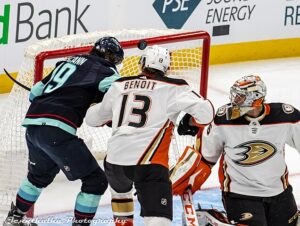 According to thehockeywriters.com on Wednesday, the Toronto Maple Leafs have signed defenseman Simon Benoit of Laval, Quebec. The terms of the contract are one year, and worth $775,000.
Benoit has spent the last three seasons with the Anaheim Ducks. In 2022-23, he had three goals and seven assists for 10 points in 78 games. Benoit was a poor -29 with 60 penalty minutes, 82 shots on goal, 128 blocked shots, 216 hits, nine takeaways and 35 giveaways.
In 2022-23, Benoit had one multi-point game, the first of his National Hockey League career. It came on St. Patrick's Day in a 7-4 Ducks win over the Columbus Blue Jackets. Benoit had a secondary assist on a goal by Scott Harrington of Kingston, Ontario at 14:37 of the first period, which put the Ducks up 2-1 at the time. He then had a second secondary assist on a goal by Max Comtois of Longueuil, Quebec at 3:44 of the second period, which put the Ducks up 3-2. Derek Grant of Abbotsford, British Columbia picked up the other assist on Comtois's goal in an all-Canadian marker.
In three seasons, Benoit has four goals and 11 assists for 15 points in 137 games. He is a -37 with 84 penalty minutes, 130 shots on goal, 176 blocked shots, 404 hits, 16 takeaways and 57 giveaways. All 11 points Benoit had were even strength.