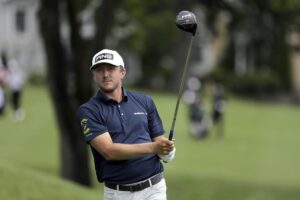 No matter what happens on Sunday, this already is a masterful weekend in Canadian golf. Heading into the fourth and final round, Mackenzie Hughes of Hamilton, Ontario is tied for the lead at the 121st United States Open from Torrey Pines Golf Course in San Diego, California.
Hughes, along with Louis Oosthuizen of South Africa, and American Russell Henley are tied for the lead at five-under-par. Of the three, only Oosthuizen is a major champion in the past, as he won the British Open in St. Andrews in 2010.
In the third round, Hughes shot a score of three-under-par 68. He birdied the fifth, 11th, and 18th holes, and bogeyed the fourth and ninth holes. However, the biggest shot for Hughes on Saturday, and quite possibly his entire career, came on the par-five 13th hole, where he delivered with a 63-foot eagle putt. Hughes's eagle was reminiscent of the eagle Tiger Woods had on the 13th hole for 60 feet at the 2008 United States Open at Torrey Pines.
There are five other golfers lurking and in contention. American Bryson DeChambeau and Northern Ireland's Rory McIroy are tied for fourth at -3. Meanwhile, Americans Scottie Scheffler and Matthew Wolff, along with Spain's Jon Rahm is three strokes back at -2.