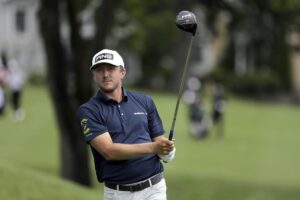 Mackenzie Hughes of Dundas, Ontario is still in the hunt at the 2020 Travelers Championship in Cromwell, Connecticut, just outside of Hartford. On Friday, Hughes shot a two-under-par 68, and is one stroke back of the leader, Phil Mickelson of San Diego, California.
Hughes was magnificent in the first round on Thursday, as he shot a remarkable 10-under par. In the second round on Friday, he had four birdies and two bogeys. He birdied the second, sixth, seventh and 15th holes, and bogeyed the fourth and ninth holes.
Hughes is in a tie for second place with Will Gordon of Davidson, North Carolina, at -12. Even though Gordon is American, he has a Canadian connection, as he did play on the Mackenzie Tour (PGA Tour Canada) in 2019.
Hughes and Gordon are trying to catch one of the best golfers in the last 20 years in Mickelson. The 50 year-old is a five-time major champion as he won the 2004, 2006 and 2010 Masters, 2005 PGA Championship, and 2013 British Open. Mickelson's five major titles are tied for 14th on the all-time list. Jack Nicklaus of Columbus, Ohio is the all-time leader with 18 wins.
Mickelson also has 44 PGA Tour wins all-time. That puts him ninth all-time. Sam Snead of Ashwood, Virginia, and Tiger Woods of Cypress, California are tied for the all-time lead with 82 wins.