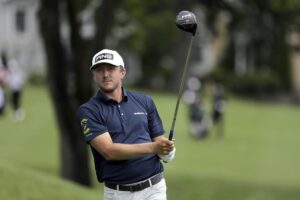 Mackenzie Hughes of Dundas, Ontario just put together the second best round of golf by a Canadian ever on the PGA Tour. On Thursday, Hughes had a score of 10-under-par after the first round of the 2020 Travelers Championship in Cromwell, Connecticut.
Hughes' score of 60, was one stroke higher than the record set by Adam Hadwin of Moose Jaw, Saskatchewan. On January 21, 2017, Hadwin posted a score of 59 in the third round of the 2017 CareerBuilder Challenge in La Quinta, California. Hadwin had an overall score of -19, but lost the tournament by one stroke to Hudson Swafford of Lakeland, Florida, who posted a winning score of -20. Hadwin's 59 is the second best round of golf in PGA Tour history. Only Jim Furyk's 58 is better. Ironically, Furyk posted the 58 in the fourth round at the 2016 Travelers Championship.
Hughes recorded 10 birdies on Thursday. He went one-under-par on the 2nd, 6th, 7th, 8th, 9th, 11th, 14th, 15th, 16th, 17th, and 18th holes. Hughes started on the back nine, and had his most impressive shot on the eighth hole. That is where he had a 30-foot birdie putt to go to -10.
Hughes currently has a three-stroke lead over Viktor Hovland of Oslo, Norway, Rory McIlroy of Holywood, Northern Ireland, and Xander Schauffele of La Jolla, California. Hovland, McIlroy, and Schauffele are tied at seven-under-par. Of the three players in second place, there is one major winner. That is McIlroy, who won the 2011 U.S. Open, 2012 and 2014 PGA Championship, and 2014 British Open.