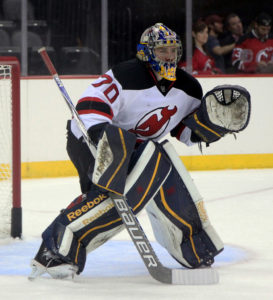 MacKenzie Blackwood of Thunder Bay, Ontario recorded his fifth career shutout and third shutout of the season on Saturday. Blackwood made 37 saves as the New Jersey Devils shutout the Los Angeles Kings 3-0 at the Prudential Center in Newark, New Jersey.
Blackwood made 13 saves in the first period, 10 saves in the second period and 14 saves in the third period. Joakim Ryan led the Kings with five shots on goal.
The Devils got goals from Blake Coleman, Nikita Gushev and Kyle Palmieri. The Devils leader in points was Palmieri, who had two points (one goal and one assist).
So far in 2019-20, Blackwood has a record of 17 wins, 12 regulation losses and seven losses in extra time. He has a goals against average of 2.84 and a save percentage of .910. Blackwood's two other shutouts this season came on October 19 in a 1-0 Devils win over the Vancouver Canucks and on February 6 in a 5-0 Devils win over the Philadelphia Flyers. In fact, Blackwood recorded shutouts in back-to-back games this past week.
With the win, the Devils improved to a record of 20 wins, 24 regulation losses and 10 losses in extra time for 50 points. The Devils next play the Florida Panthers on Tuesday. The Panthers have been shutout in two of their last five games to the Montreal Canadiens and Columbus Blue Jackets.