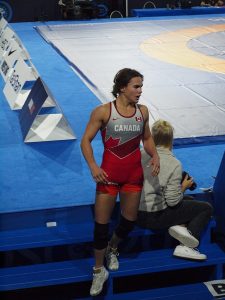 Linda Morais of Tecumseh, Ontario won the bronze medal on Thursday at the 2022 World Wrestling Championships in Belgrade, Serbia. Morais, who won the bronze medal in the women's 68 kilogram division, previously won a gold medal in the women's 59 kilogram division at the 2019 World Wrestling Championships in Nur-Sultan, Kazakhstan, and then a bronze medal in the women's 60 kilogram division in Budapest, Hungary.
In the women's 68 kilogram division on Friday, Morais was placed in the top half of the draw. She defeated reigning Olympic bronze medalist Meerim Zhumanazarova of Kyrgyzstan 6-5 in the round of 16, before losing to Ami Ishii of Japan in the quarterfinals by a fall. Then in the repechage, Morais won both of her matches to win one of the two available bronze medals. The first win came over Pauline Lecarpentier of France 2-1 in the second round of the repechage, and then beat Nisha Dahiya  of India by a fall in the bronze medal match. Irina Ringaci of Macedonia won the other bronze medal. Meanwhile, in the gold medal match, Tamyra Mensah-Stock of the United States beat Ami Ishii of Japan 6-0.
This was Canada's second medal at the 2022 World Women's Wrestling Championships. The first medal came on Tuesday as Karla Godinez Gonzalez of Coquitlam, British Columbia won bronze in the women's 55 kilogram division. The bronze medal for Morais will give her confidence as she prepares for the 2024 Olympic Games in Paris.