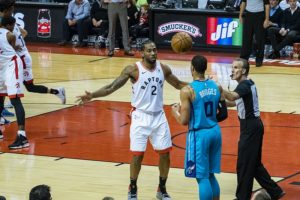 Kawhi Leonard might be born in Los Angeles, California and could be a member of the Los Angeles Clippers for the 2019-2020 National Basketball Association season. However on Sunday night at the Scotiabank Arena in Toronto, Ontario, Leonard delivered one of the most iconic sports moments ever to have existed in Canada.
In game seven of the Eastern Conference semifinal, the Toronto Raptors and the Philadelphia 76ers were tied at 90 points each when Leonard delivered one of the greatest moments in the history of basketball. After releasing the ball right before the buzzer, the basketball from Leonard's shot hit the rim, bounced in the air, hit the rim again, and then bounced in the air, before finding its way through the basket after touching the rim on a couple of more occasions. It has been compared to one of the greatest shots in basketball history at any level–EVER! The only other shot that could be in the same ball park is when Christian Laettner caught the basketball from a throw by Grant Hill who was at the opposite end of the court in Duke's 104-103 win over Kentucky in the East Regional Final at the 1992 NCAA Basketball Tournament.
In the Raptors' 92-90 win in game seven of the Eastern Conference semifinals, Leonard led the Raptors offensive attack with 41 points. Three other Raptors reached double digits in scoring as Serge Ibaka had 17 points, Pascal Siakam had 11 points, and Kyle Lowry had 10 points. Siakam and Marc Gasol shared the Raptors lead in rebounds with 11 and Lowry led the Raptors with six assists.
With the win, the Raptors will now face the Milwaukee Bucks in the Eastern Conference Final starting Wednesday in Wisconsin. The Portland Trail Blazers will face the Golden State Warriors in the Western Conference Final after the Trail Blazers came from 17 points back to beat the Denver Nuggets 100-96 in game seven of the Western Conference semi-final on Sunday afternoon.