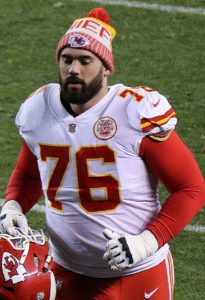 Kansas City Chiefs guard Laurent Duvernay-Tardif of Mont-Saint-Hilaire, Quebec made history on Wednesday by becoming the first active player in the National Football League to earn a medical degree. Duvernay-Tardif earned his degree in medicine from the University of McGill in Montreal, Quebec.
The fact that Duvernay-Tardif earned his doctorate at the University of McGill has an interesting twist. That is because Chiefs head coach Andy Reid's mother Elizabeth was also a graduate from the University of McGill, as she achieved her doctorate in medicine with a focus in radiology over 50 years ago. According to the Kansas City Star,Elizabeth decided to go to Canada to study medicine because medical school opportunities for women after World War Two were scarce in the United States.
Duvernay-Tardif also got praise from Canadian Prime Minister Justin Trudeau who tweeted, "Congratulations Laurent! An incredible achievement that makes us proud."
From a football perspective, Duvernay-Tardif was selected in the sixth round, 200th overall by the Chiefs from the University of McGill in the 2014 National Football League Draft. That same year he was selected in the third round, 19th overall, by the Calgary Stampeders in the 2014 Canadian Football League Draft.
While with the Redmen, he won the J.P. Metras Trophy in 2013, which is presented to the most outstanding lineman in Canadian University Football. Since playing for the Chiefs in 2015, Duvernay-Tardif has started 38 National Football League games in three seasons.
The 2018 National Football League season might be a little bit of a challenge for Duvernay-Tardif however. That is because he will be expected to protect the inexperienced quarterback Patrick Mahomes II, who was the Chiefs' first round draft pick in the 2017 NFL Draft. In the offseason Kansas City decided not to bring back quarterback Alex Smith, who they traded to the Washington Redskins on January 30 for a third round draft pick in the 2018 National Football League Draft and cornerback Kendall Fuller.