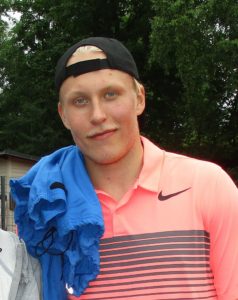 Winnipeg Jets right winger Patrik Laine was named the National Hockey League's first star of the week on Monday. Laine had a week to remember as he scored 11 goals in only four games.
Five of those goals came in an 8-4 win over the St. Louis Blues on Saturday. Laine became the first player in seven years to score five goals in one game. The last person to accomplish the feat was Johan Franzen of the Detroit Red Wings, who notched five goals in a 7-5 win over the Ottawa Senators on February 2, 2011.
Laine becomes the third Jets player in franchise history to score five goals in one game. The other two were Willy Lindstrom and Alexei Zhamnov. Lindstrom scored five goals and added one assist in a 7-6 Jets win over the Philadelphia Flyers on March 2, 1982 and Zhamnov scored five goals in a 7-7 tie between the Jets and Los Angeles Kings on April 1, 1995. Interestingly, Zhamnov was the last player on a Canadian team in the NHL to score five goals in one game.
Laine was named the NHL's player of the week from November 19-25 despite not picking up an assist. He was a +3 with two power play goals, two game winning goals, 21 shots on goal, four hits, three blocked shots and one faceoff win. On the season, Laine has 19 goals and three assists for 22 points. His 19 goals leads the NHL.
Vegas Golden Knights goaltender Marc-Andre Fleury of Sorel, Quebec was the second star of the week. Nikita Kucherov of the Tampa Bay Lightning was the NHL's third star.